Excerpt from Sarasota Herlad Tribune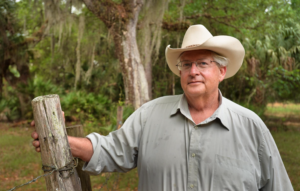 Sitting in an open air chickee hut with expansive views of the pastures and pine forests on his ranch bordering Myakka River State Park, Jim Strickland points to a tree line in the distance to show where a golf course once was planned.
Before Strickland and a partner bought the 4,530-acre Blackbeard's Ranch, it was owned by a World War II Army general whose family began buying property in the area in the 1940s. When the general died his heirs considered developing the land. There were informal plans for a golf course and housing, Strickland said.
http://www.heraldtribune.com/news/20170408/trying-to-save-floridas-landscape