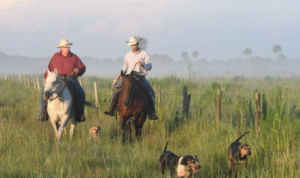 Excerpt from TampaBay.com
Beyond our beaches and theme parks lies a Florida still unknown to many — Florida's ranchlands. Off the beaten track, these lands are our last frontier. I consider myself blessed to live and work as a rancher in this magical landscape we call Florida.
We are the country's first cattle state. We started in 1521 with the introduction of cattle by Ponce de Leon. Today our state is home to five of the top 10 cow/calf operations, and we have more of the top 25 than any other state. Nearly half of Florida's agricultural land is involved in cattle production. Cattle ranching is vital to our state's economy and our nation's food security; it is a $3 billion industry in Florida, carried out on more than 5.5 million acres of land.
http://www.tampabay.com/news/perspective/perspective-cattle-ranches-are-key-to-preserving-florida-for-all-of/2311118